We have an outstanding program planned for your information and enjoyment.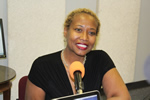 With Co-Host Dr. Pam sitting in the hot seat, this show will be very interesting(smile).
This Week's Special Guest:

Transformation Leader, Executive Coach; Master Teacher, Seminar Leader, Author; Poet and Entrepreneur, Mu Shemsu-t

Owner/CEO of Catalyst Coaching and Counseling, Inc. and Christian Coach and Consultant Gregory Stanton
They will be live in the studio we are looking forward to hearing what they have to say.